Acetyl tetrapeptide-9 - CAS 928006-50-2
Acetyl tetrapeptide-9(CAT: I021281) is a peptide compound that has been studied for its potential role in skincare and cosmetics. It is believed to play a role in stimulating the production of basement membrane polysaccharide (lumican) and collagen type I synthesis. These activities suggest that Acetyl tetrapeptide-9 may have applications in promoting skin health and elasticity, potentially contributing to anti-aging effects. It is commonly used as an ingredient in cosmetic formulations aimed at improving skin appearance and texture.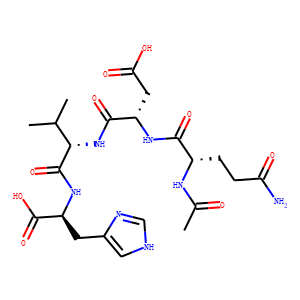 Molecular Formula: C22H33N7O9
Molecular Weight:539.54
* For research use only. Not for human or veterinary use.
Synonym
| | |
| --- | --- |
| Synonyms | Acetyl tetrapeptide-9; LS 9745; LS-9745; LS9745; N-Acetyl-gln-asp-val-his; Dermican; |
Property
| | |
| --- | --- |
| Molecular Formula: | C22H33N7O9 |
| Molecular Weight | 539.54 |
| Solubility | Soluble in DMSO |
| Purity | 98.0% |
| Storage | Dry, dark and at 0 - 4 C for short term (days to weeks) or -20 C for long term (months to years). |
Computed Descriptor
| | |
| --- | --- |
| IUPAC Name | (2S,5S,8S,11S)-2-((1H-imidazol-4-yl)methyl)-11-(3-amino-3-oxopropyl)-8-(carboxymethyl)-5-isopropyl-4,7,10,13-tetraoxo-3,6,9,12-tetraazatetradecanoic acid |
| InChI | InChI=1S/C22H33N7O9/c1-10(2)18(21(36)28-15(22(37)38)6-12-8-24-9-25-12)29-20(35)14(7-17(32)33)27-19(34)13(26-11(3)30)4-5-16(23)31/h8-10,13-15,18H,4-7H2,1-3H3,(H2,23,31)(H,24,25)(H,26,30)(H,27,34)(H,28,36)(H,29,35)(H,32,33)(H,37,38)/t13-,14-,15-,18-/m0/s1 |
| InChIKey | QNZANUZIBYJBIN-XSWJXKHESA-N |
| SMILES | O=C(O)[C@H](CC1=CNC=N1)NC([C@H](C(C)C)NC([C@H](CC(O)=O)NC([C@H](CCC(N)=O)NC(C)=O)=O)=O)=O |