Acephate - CAS 30560-19-1
Acephate (Cat No.:R007296) is an organophosphate insecticide that is used to control a wide range of pests on crops, ornamental plants, and turf. It acts by inhibiting the enzyme acetylcholinesterase in the nervous systems of insects, disrupting their neurotransmission and leading to paralysis and death. It is effective against aphids, leafhoppers, thrips, and other pests. Acephate is available in various formulations, including sprays, granules, and systemic treatments.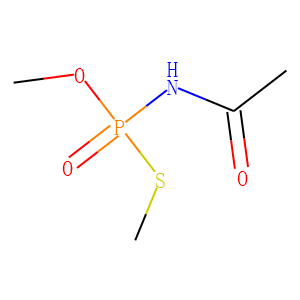 Molecular Formula: C4H10NO3PS
Molecular Weight:183.16
* For research use only. Not for human or veterinary use.
Synonym
| | |
| --- | --- |
| Synonyms | Acetylphosphoramidothioic Acid O,S-Dimethyl Ester; Ortho 12420; Orthene; |
Property
| | |
| --- | --- |
| Molecular Formula: | C4H10NO3PS |
| Molecular Weight | 183.16 |
| Target: | AChE |
| Solubility | Soluble to 100 mM in sterile water |
| Purity | ≥95% |
| Storage | Store at +4C |
Computed Descriptor
| | |
| --- | --- |
| IUPAC Name | N-[methoxy(methylsulfanyl)phosphoryl]acetamide |
| InChI | InChI=1S/C4H10NO3PS/c1-4(6)5-9(7,8-2)10-3/h1-3H3,(H,5,6,7) |
| InChIKey | YASYVMFAVPKPKE-UHFFFAOYSA-N |
| SMILES | CC(=O)NP(=O)(OC)SC |