ABT 102 - CAS 808756-71-0
ABT-102(CAT: I000742) is a selective and potent inhibitor of the histamine H3 receptor. The histamine H3 receptor is primarily found in the central nervous system and is involved in regulating neurotransmitter release, including the modulation of histamine, dopamine, and other neurotransmitters. By inhibiting the H3 receptor, ABT-102 may affect neurotransmission, leading to potential therapeutic effects in conditions such as cognitive disorders, sleep disorders, and psychiatric conditions.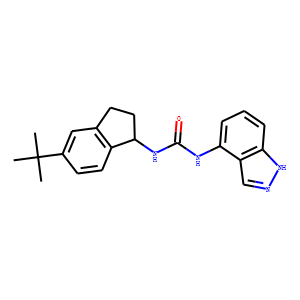 Molecular Formula: C21H24N4O
Molecular Weight:348.45
* For research use only. Not for human or veterinary use.
Synonym
| | |
| --- | --- |
| Synonyms | ABT 102; ABT-102; ABT102; CHEMBL398338;;Urea, N-((1R)-5-(1,1-dimethylethyl)-2,3-dihydro-1H-inden-1-yl)-N/'-1H-indazol-4-yl- |
Property
| | |
| --- | --- |
| Molecular Formula: | C21H24N4O |
| Molecular Weight | 348.45 |
| Target: | TRPV1 Antagonist |
| Solubility | Soluble in DMSO, not in water |
| Purity | ≥95% |
| Storage | 0 - 4°Cfor short term (days to weeks), or -20 °C for long term (months). |
Computed Descriptor
| | |
| --- | --- |
| IUPAC Name | 1-[(1R)-5-tert-butyl-2,3-dihydro-1H-inden-1-yl]-3-(1H-indazol-4-yl)urea |
| InChI | InChI=1S/C21H24N4O/c1-21(2,3)14-8-9-15-13(11-14)7-10-18(15)24-20(26)23-17-5-4-6-19-16(17)12-22-25-19/h4-6,8-9,11-12,18H,7,10H2,1-3H3,(H,22,25)(H2,23,24,26)/t18-/m1/s1 |
| InChIKey | TYOYXJNGINZFET-GOSISDBHSA-N |
| SMILES | CC(C)(C)C1=CC2=C(C=C1)C(CC2)NC(=O)NC3=CC=CC4=C3C=NN4 |