Abemaciclib ( LY2835219)- CAS 1231929-97-7 (free base)
Abemaciclib, also known as LY2835219, is orally available cyclin-dependent kinase (CDK) inhibitor that targets the CDK4 (cyclin D1) and CDK6 (cyclin D3) cell cycle pathway, with potential antineoplastic activity. LY2835219 inhibits CDK4 and CDK6 with low nanomolar potency. LY2835219 specifically inhibits CDK4 and 6, thereby inhibiting retinoblastoma (Rb) protein phosphorylation in early G1. Inhibition of Rb phosphorylation prevents CDK-mediated G1-S phase transition, thereby arresting the cell cycle in the G1 phase, suppressing DNA synthesis and inhibiting cancer cell growth.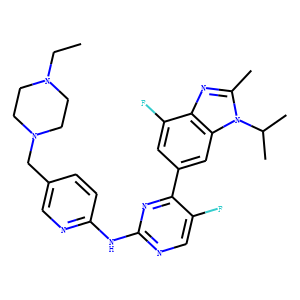 CAS Number: 1231929-97-7 (free base)
Molecular Formula: C27H32F2N8
Molecular Weight:506.606
* For research use only. Not for human or veterinary use.
Synonym
| | |
| --- | --- |
| Synonyms | ;N-(5-((4-ethylpiperazin-1-yl)methyl)pyridin-2-yl)-5-fluoro-4-(4-fluoro-1-isopropyl-2-methyl-1H-benzo[d]imidazol-6-yl)pyrimidin-2-amine |
Property
| | |
| --- | --- |
| Molecular Formula: | C27H32F2N8 |
| Molecular Weight | 506.606 |
| Target: | CDK inhibitor |
| Solubility | Soluble in DMSO, not in water |
| Purity | ≥95% |
| Storage | 0 - 4°Cfor short term (days to weeks), or -20 °C for long term (months). |
| MDL | MFCD22665744 |
Computed Descriptor
| | |
| --- | --- |
| IUPAC Name | N-[5-[(4-ethylpiperazin-1-yl)methyl]pyridin-2-yl]-5-fluoro-4-(7-fluoro-2-methyl-3-propan-2-ylbenzimidazol-5-yl)pyrimidin-2-amine |
| InChI | InChI=1S/C27H32F2N8/c1-5-35-8-10-36(11-9-35)16-19-6-7-24(30-14-19)33-27-31-15-22(29)25(34-27)20-12-21(28)26-23(13-20)37(17(2)3)18(4)32-26/h6-7,12-15,17H,5,8-11,16H2,1-4H3,(H,30,31,33,34) |
| InChIKey | UZWDCWONPYILKI-UHFFFAOYSA-N |
| SMILES | CCN1CCN(CC1)CC2=CN=C(C=C2)NC3=NC=C(C(=N3)C4=CC5=C(C(=C4)F)N=C(N5C(C)C)C)F |