Abacavir sulfate - CAS 188062-50-2
Abacavir sulfate (Cat. No: I013894) is the sulfate of the antiviral drug abacavir, and its pharmacological effect is the same as that of abacavir. It is a nucleoside reverse transcriptase inhibitor with anti-HIV-1 virus activity. It works mainly by inhibiting HIV reverse transcriptase, causing chain scission, and further preventing virus replication.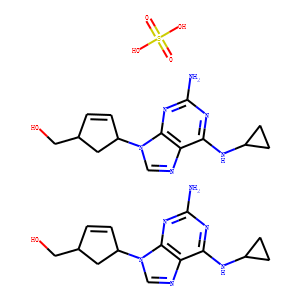 Molecular Formula: C₁₄H₁₈N₆O
Molecular Weight:286.33
* For research use only. Not for human or veterinary use.
Property
| | |
| --- | --- |
| Molecular Formula: | C₁₄H₁₈N₆O |
| Molecular Weight | 286.33 |
| Target: | Reverse Transcriptase |
| Solubility | 10 mM in H2O |
| Purity | ≥95% |
Computed Descriptor
| | |
| --- | --- |
| IUPAC Name | [(1S,4R)-4-[2-amino-6-(cyclopropylamino)purin-9-yl]cyclopent-2-en-1-yl]methanol;sulfuric acid |
| InChI | InChI=1S/2C14H18N6O.H2O4S/c2*15-14-18-12(17-9-2-3-9)11-13(19-14)20(7-16-11)10-4-1-8(5-10)6-21;1-5(2,3)4/h2*1,4,7-10,21H,2-3,5-6H2,(H3,15,17,18,19);(H2,1,2,3,4)/t2*8-,10+;/m11./s1 |
| InChIKey | WMHSRBZIJNQHKT-FFKFEZPRSA-N |
| SMILES | C1CC1NC2=NC(=NC3=C2N=CN3C4CC(C=C4)CO)N.C1CC1NC2=NC(=NC3=C2N=CN3C4CC(C=C4)CO)N.OS(=O)(=O)O |