7-Fluoro-4-hydroxycoumarin - CAS 2145-27-9
7-Fluoro-4-hydroxycoumarin (Cat.No:L004557) is a notable chemical compound with diverse applications. Its distinctive structure, a fluorinated coumarin derivative, imparts unique reactivity and fluorescence properties. This compound serves as a valuable fluorophore and intermediate in the synthesis of specialized molecules used in biochemical assays and fluorescence labeling.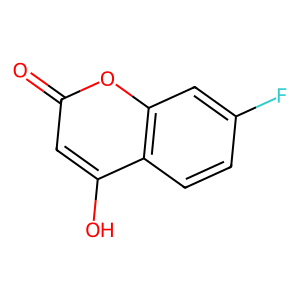 Molecular Formula: C9H5FO3
Molecular Weight:180.13
* For research use only. Not for human or veterinary use.
Property
| | |
| --- | --- |
| Molecular Formula: | C9H5FO3 |
| Molecular Weight | 180.13 |
| Purity | ≥95% |
Computed Descriptor
| | |
| --- | --- |
| IUPAC Name | 7-fluoro-4-hydroxychromen-2-one |
| InChI | InChI=1S/C9H5FO3/c10-5-1-2-6-7(11)4-9(12)13-8(6)3-5/h1-4,11H |
| InChIKey | FSWKHPJLMMGTBV-UHFFFAOYSA-N |
| SMILES | C1=CC2=C(C=C1F)OC(=O)C=C2O |