5-(galactosylhydroxy)-L-Lysine - CAS 32448-36-5
Glycosylated hydroxylysine residues present in bone type I collagen are terminal degradation products of the bone matrix that are released during bone resorption and excreted in the urine. 5-(galactosylhydroxy)-L-Lysine levels are elevated in patients with metabolic bone loss and thus may serve as a biochemical marker of bone collagen quality.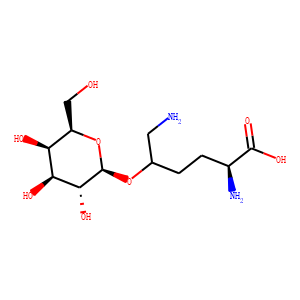 Molecular Formula: C12H24N2O8
Molecular Weight:324.3
* For research use only. Not for human or veterinary use.
Synonym
| | |
| --- | --- |
| Synonyms | 5-(β-D-galactopyranosyloxy)-L-lysine |
Property
| | |
| --- | --- |
| Molecular Formula: | C12H24N2O8 |
| Molecular Weight | 324.3 |
| Purity | ≥95% |
| Storage | -20°C |
Computed Descriptor
| | |
| --- | --- |
| InChI | InChI=1S/C12H24N2O8/c13-3-5(1-2-6(14)11(19)20)21-12-10(18)9(17)8(16)7(4-15)22-12/h5-10,12,15-18H,1-4,13-14H2,(H,19,20)/t5?,6?,7-,8+,9+,10-,12-/m1/s1 |
| InChIKey | OWGKYELXGFKIHH-OBDDTCFOSA-N |
| SMILES | N[C@@H](CCC(CN)O[C@H]1[C@H](O)[C@@H](O)[C@@H](O)[C@@H](CO)O1)C(O)=O |