5α-dihydro-11-keto Testosterone - CAS 32694-37-4
5α-dihydro-11-keto testosterone (CAT: I011444), also known as 11-Ketotestosterone (11-KT), is a steroid hormone that is primarily produced in the gonads and adrenal glands of fish and reptiles. It is structurally similar to testosterone but with a keto group at the C11 position. In fish, 11-KT plays a crucial role in the development of male secondary sexual characteristics, such as the growth of fins, coloration, and behavior. It also regulates reproductive functions, including sperm production and maturation. In addition, 11-KT has been studied for its potential therapeutic applications in humans, particularly as an androgen replacement therapy for men with testosterone deficiency, and as a treatment for breast cancer and endometriosis in women.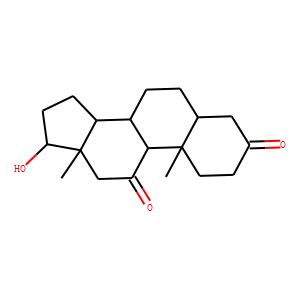 Molecular Formula: C19H28O3
Molecular Weight:304.43
* For research use only. Not for human or veterinary use.
Synonym
| | |
| --- | --- |
| Synonyms | (5α,17β)-17-hydroxy-androstane-3,11-dione |
Property
| | |
| --- | --- |
| Molecular Formula: | C19H28O3 |
| Molecular Weight | 304.43 |
| Target: | Androgen Receptor |
| Solubility | Soluble in DMSO |
| Purity | ≥95% |
| Storage | Store at -20°C |
Computed Descriptor
| | |
| --- | --- |
| IUPAC Name | (5S,8S,9S,10S,13S,14S,17S)-17-hydroxy-10,13-dimethyl-2,4,5,6,7,8,9,12,14,15,16,17-dodecahydro-1H-cyclopenta[a]phenanthrene-3,11-dione |
| InChI | InChI=1S/C19H28O3/c1-18-8-7-12(20)9-11(18)3-4-13-14-5-6-16(22)19(14,2)10-15(21)17(13)18/h11,13-14,16-17,22H,3-10H2,1-2H3/t11-,13-,14-,16-,17+,18-,19-/m0/s1 |
| InChIKey | RSQKILYTRHKUIJ-HZGXJFKTSA-N |
| SMILES | CC12CCC(=O)CC1CCC3C2C(=O)CC4(C3CCC4O)C |