5α-Androstenone - CAS 18339-16-7
5α-Androstenone(CAS 18339-16-7) is a mammalian pheromone released as a volatile chemical cue in boar saliva to facilitate social and sexual interactions. It has been used to prime sexual behavior of sows in estrus for mating or artificial insemination. 5α-androst-16-en-3-one is also found in human sweat and urine and has been used to study receptor-mediated odorant detection and the genetic basis for anosmias.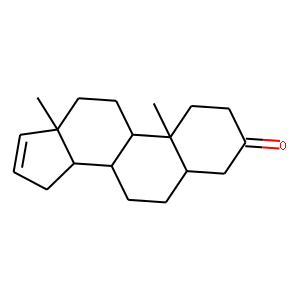 Molecular Formula: C19H28O
Molecular Weight:272.432
* For research use only. Not for human or veterinary use.
Synonym
| | |
| --- | --- |
| Synonyms | (5α)-Androst-16-en-3-one; Androstenone; 16,(5α)-Androsten-3-one; 5α-Androst-16-ene-3-one; E 282 |
Property
| | |
| --- | --- |
| Molecular Formula: | C19H28O |
| Molecular Weight | 272.432 |
| Purity | ≥95% |
| Storage | -20°C |
| MDL | MFCD00010479 |
Computed Descriptor
| | |
| --- | --- |
| IUPAC Name | (5S,8R,9S,10S,13R,14S)-10,13-dimethyl-1,2,4,5,6,7,8,9,11,12,14,15-dodecahydrocyclopenta[a]phenanthren-3-one |
| InChI | InChI=1S/C19H28O/c1-18-9-3-4-16(18)15-6-5-13-12-14(20)7-11-19(13,2)17(15)8-10-18/h3,9,13,15-17H,4-8,10-12H2,1-2H3/t13-,15-,16-,17-,18-,19-/m0/s1 |
| InChIKey | HFVMLYAGWXSTQI-QYXZOKGRSA-N |
| SMILES | CC12CCC3C(C1CC=C2)CCC4C3(CCC(=O)C4)C |