4-Acetoxystyrene - CAS 2628-16-2
4-Acetoxystyrene (Cat No.:R027536)is called 4-Ethenylphenol acetate; 4-Vinylphenyl Acetate; PACS; p-Acetoxystyrene.4-Acetoxystyrene is used as a chemical analysis reagent, biomedical intermediate, and important intermediate for the synthesis of 248 nm deep UV positive photoresist.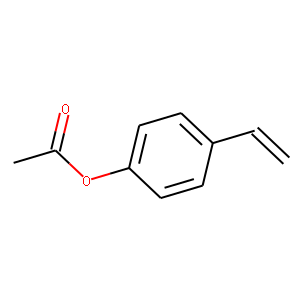 Molecular Formula: C10H10O2
Molecular Weight:162.188
* For research use only. Not for human or veterinary use.
Synonym
| | |
| --- | --- |
| Synonyms | 4-Acetoxystyrene; 4-Ethenylphenol acetate; 4-Vinylphenyl Acetate; PACS; p-Acetoxystyrene |
Property
| | |
| --- | --- |
| Molecular Formula: | C10H10O2 |
| Molecular Weight | 162.188 |
| Purity | ≥95% |
| Storage | -20°C |
Computed Descriptor
| | |
| --- | --- |
| IUPAC Name | (4-ethenylphenyl) acetate |
| InChI | InChI=1S/C10H10O2/c1-3-9-4-6-10(7-5-9)12-8(2)11/h3-7H,1H2,2H3 |
| InChIKey | JAMNSIXSLVPNLC-UHFFFAOYSA-N |
| SMILES | CC(=O)OC1=CC=C(C=C1)C=C |