3,12-Diketo-5b-cholanoic Acid - CAS 2958-05-6
3,12-Diketo-5β-cholanoic acid (Cat No.:C001146) is a synthetic bile acid derivative. It belongs to the class of bile acids, naturally occurring substances crucial for fat digestion. This compound is of interest in pharmaceutical research due to its potential therapeutic applications. If you need it, contact us and we will reply to you within 24 hours.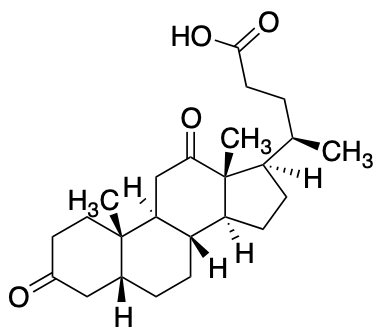 Molecular Formula: C₂₄H₃₆O₄
Molecular Weight:388.54
Appearance:White to Off-White Solid
* For research use only. Not for human or veterinary use.
Synonym
| | |
| --- | --- |
| Synonyms | 3,12-Dioxodeoxycholic Acid; Dehydrodeoxycholic Acid; (5β)-3,12-Dioxocholan-24-oic Acid; 5b-CHOLANIC ACID-3,12-DIONE |
Property
| | |
| --- | --- |
| Molecular Formula: | C₂₄H₃₆O₄ |
| Molecular Weight | 388.54 |
| Solubility | Chloroform (Slightly), Methanol (Slightly) |
| Purity | ≥95% |
| Storage | 4°C, Inert atmosphere |
Computed Descriptor
| | |
| --- | --- |
| IUPAC Name | (4R)-4-[(5R,8R,9S,10S,13R,14S,17R)-10,13-dimethyl-3,12-dioxo-2,4,5,6,7,8,9,11,14,15,16,17-dodecahydro-1H-cyclopenta[a]phenanthren-17-yl]pentanoic acid |
| InChI | InChI=1S/C24H36O4/c1-14(4-9-22(27)28)18-7-8-19-17-6-5-15-12-16(25)10-11-23(15,2)20(17)13-21(26)24(18,19)3/h14-15,17-20H,4-13H2,1-3H3,(H,27,28)/t14-,15-,17+,18-,19+,20+,23+,24-/m1/s1 |
| InChIKey | XNTYYYINMGRBQW-ZEZONBOOSA-N |
| SMILES | CC(CCC(=O)O)C1CCC2C1(C(=O)CC3C2CCC4C3(CCC(=O)C4)C)C |