3-mercaptopropiononitrile - CAS 1001-58-7
3-mercaptopropiononitrile(CAT: M071716) is a colorless to light yellow liquid with a pungent odor. It is used as a chemical intermediate in the production of pharmaceuticals, agrochemicals, and other specialty chemicals. 3-Mercaptopropiononitrile is also used in animal studies as a cysteine-depleting agent, as it irreversibly binds to cysteine. This depletion of cysteine can induce oxidative stress and has been used in studies of aging, cancer, and other diseases.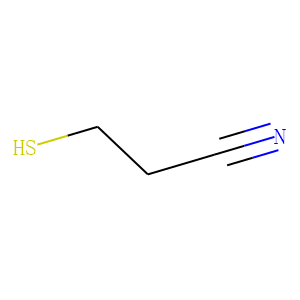 Molecular Formula: C3H5NS
Molecular Weight:87.14
* For research use only. Not for human or veterinary use.
Property
| | |
| --- | --- |
| Molecular Formula: | C3H5NS |
| Molecular Weight | 87.14 |
| Purity | ≥95% |
| Storage | -20°C |
Computed Descriptor
| | |
| --- | --- |
| IUPAC Name | 3-sulfanylpropanenitrile |
| InChI | InChI=1S/C3H5NS/c4-2-1-3-5/h5H,1,3H2 |
| InChIKey | FCTXEFOUDMXDPD-UHFFFAOYSA-N |
| SMILES | C(CS)C#N |