3-Ethyloctane - CAS 5881-17-4
3-Ethyloctane(CAT: R020959) is a common small-molecule alkane. It is often used in organic synthesis, organic compound properties detection, and other processes. This product is used in organic synthesis, chemical research and development, and other scientific research fields.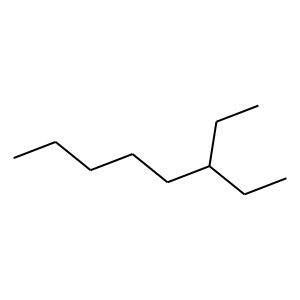 Molecular Formula: C10H22
Molecular Weight:142.286
* For research use only. Not for human or veterinary use.
Property
| | |
| --- | --- |
| Molecular Formula: | C10H22 |
| Molecular Weight | 142.286 |
| Purity | ≥95% |
| Storage | -20°C |
Computed Descriptor
| | |
| --- | --- |
| IUPAC Name | 3-ethyloctane |
| InChI | InChI=1S/C10H22/c1-4-7-8-9-10(5-2)6-3/h10H,4-9H2,1-3H3 |
| InChIKey | OEYGTUAKNZFCDJ-UHFFFAOYSA-N |
| SMILES | CCCCCC(CC)CC |