3-Chloro-4-methylaniline - CAS 95-74-9
3-Chloro-4-methylaniline (CAT: R070318) is an organic compound that is used as a building block in the synthesis of various pharmaceuticals, dyes, and agrochemicals. It is a pale yellow liquid that is slightly soluble in water but soluble in organic solvents. 3-Chloro-4-methylaniline is an aromatic amine, and as such, can undergo a range of reactions typical of this functional group, such as electrophilic substitution reactions. It is also used as a reagent in organic synthesis and as a precursor to other important chemicals.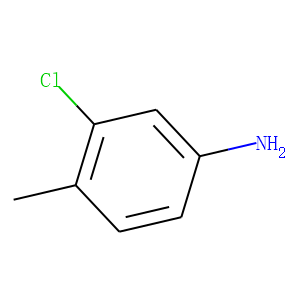 Molecular Formula: C7H8ClN
Molecular Weight:141.598
* For research use only. Not for human or veterinary use.
Synonym
| | |
| --- | --- |
| Synonyms | 3-CHLORO-P-TOLUIDINE, 2-CHLORO-4-AMINOTOLUENE |
Property
| | |
| --- | --- |
| Molecular Formula: | C7H8ClN |
| Molecular Weight | 141.598 |
| Purity | ≥95% |
| Storage | RT |
Computed Descriptor
| | |
| --- | --- |
| IUPAC Name | 3-chloro-4-methylaniline |
| InChI | InChI=1S/C7H8ClN/c1-5-2-3-6(9)4-7(5)8/h2-4H,9H2,1H3 |
| InChIKey | RQKFYFNZSHWXAW-UHFFFAOYSA-N |
| SMILES | CC1=C(C=C(C=C1)N)Cl |