3-Benzylimidazolidine-2,4-dione - CAS 2301-40-8
3-Benzylimidazolidine-2,4-dione(Cat No.:L008686), is a chemical compound with potential applications in organic synthesis and medicinal chemistry. Its molecular structure comprises an imidazolidine-2,4-dione core with a benzyl group. This compound may serve as a key intermediate in the synthesis of diverse organic molecules or pharmaceuticals. The imidazolidine-2,4-dione scaffold is of interest due to its involvement in various bioactive compounds.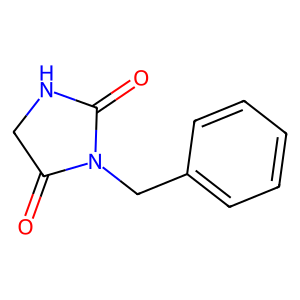 Molecular Formula: C10H10N2O2
Molecular Weight:190.20
* For research use only. Not for human or veterinary use.
Property
| | |
| --- | --- |
| Molecular Formula: | C10H10N2O2 |
| Molecular Weight | 190.20 |
| Purity | ≥95% |
Computed Descriptor
| | |
| --- | --- |
| IUPAC Name | 3-benzylimidazolidine-2,4-dione |
| InChI | InChI=1S/C10H10N2O2/c13-9-6-11-10(14)12(9)7-8-4-2-1-3-5-8/h1-5H,6-7H2,(H,11,14) |
| InChIKey | AODAEDMAPRQATI-UHFFFAOYSA-N |
| SMILES | C1C(=O)N(C(=O)N1)CC2=CC=CC=C2 |