2/',5/'-Dideoxyadenosine - CAS 6698-26-6
2/',5/'-Dideoxyadenosine(CAT: I011421) is a synthetic nucleoside analog that lacks a hydroxyl group at the 3′ position of the ribose sugar, which is essential for the formation of the phosphodiester bond required for DNA and RNA synthesis. 2′,5′-Dideoxyadenosine is phosphorylated by cellular kinases to its triphosphate form, which competes with the natural nucleotide adenosine triphosphate (ATP) for incorporation into viral DNA during viral replication. This property has led to its use in research and the development of pharmaceuticals for the treatment of viral infections, such as hepatitis B and HIV.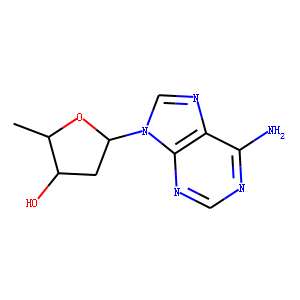 Molecular Formula: C₁₀H₁₃N₅O₂
Molecular Weight:235.25
* For research use only. Not for human or veterinary use.
Synonym
| | |
| --- | --- |
| Synonyms | 2/',5/'-dideoxy-adenosine |
Property
| | |
| --- | --- |
| Molecular Formula: | C₁₀H₁₃N₅O₂ |
| Molecular Weight | 235.25 |
| Target: | Adenylate cyclase |
| Solubility | Soluble in DMSO |
| Purity | ≥95% |
| Storage | Store at -20°C |
| MDL | MFCD00210904 |
Computed Descriptor
| | |
| --- | --- |
| InChI | InChI=1S/C10H13N5O2/c1-5-6(16)2-7(17-5)15-4-14-8-9(11)12-3-13-10(8)15/h3-7,16H,2H2,1H3,(H2,11,12,13)/t5-,6+,7-/m1/s1 |
| InChIKey | FFHPXOJTVQDVMO-DSYKOEDSSA-N |
| SMILES | CC1C(CC(O1)N2C=NC3=C2N=CN=C3N)O |