2,3-Dimethylmaleic Anhydride - CAS 766-39-2
2,3-Dimethyl maleic anhydride (Cat No.:R024223) is an important basic raw material of unsaturated organic anhydride, used as raw material for the production of 1,4-butanediol, γ-butyrolactone, tetrahydrofuran, succinic acid, etc. In addition, it is also used for the production of unsaturated polyester resin, ink auxiliaries, paper auxiliaries, coatings, and pharmaceutical industry, food industry, etc.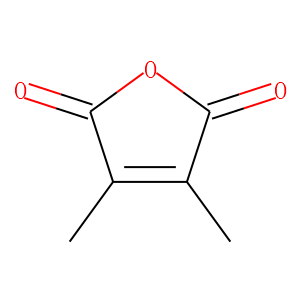 Molecular Formula: C6H6O3
Molecular Weight:126.111
* For research use only. Not for human or veterinary use.
Synonym
| | |
| --- | --- |
| Synonyms | Dimethyl-maleic anhydride;2,3-dimethylmalonic anhydride?4,4-Dimethyl-2,5-furandion; Dimethylmaleic acid anhydride; Dimethylmaleic Anhydride; NSC 92512 |
Property
| | |
| --- | --- |
| Molecular Formula: | C6H6O3 |
| Molecular Weight | 126.111 |
| Purity | ≥95% |
| Storage | 3 years -20C powder |
Computed Descriptor
| | |
| --- | --- |
| IUPAC Name | 3,4-dimethylfuran-2,5-dione |
| InChI | InChI=1S/C6H6O3/c1-3-4(2)6(8)9-5(3)7/h1-2H3 |
| InChIKey | MFGALGYVFGDXIX-UHFFFAOYSA-N |
| SMILES | CC1=C(C(=O)OC1=O)C |