2,2,3-Trimethylbutane- CAS 464-06-2
2,2,3-Trimethylbutane(Cat No.:R069130) also known as Triptane,2,2,3-trimethyl-but; butane,2,2,3-trimethyl-;isopropyl trimethyl methane;trimethylbutane(non-specific name).And it is mainly used as an additive for aviation fuel oil with high octane numbers, and also for organic synthesis.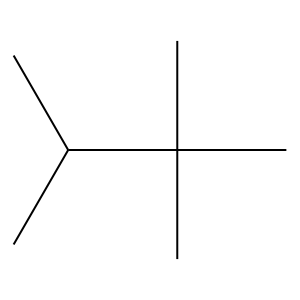 Catalog Number: R069130
CAS Number: 464-06-2
PubChem Substance ID:355080545
Molecular Formula: C7H16
Molecular Weight:100.205
Purity: ≥95%
* For research use only. Not for human or veterinary use.
Synonym
Property
| | |
| --- | --- |
| Molecular Formula: | C7H16 |
| Molecular Weight | 100.205 |
| Purity | ≥95% |
| Storage | RT |
Computed Descriptor
| | |
| --- | --- |
| IUPAC Name | 2,2,3-trimethylbutane |
| InChI | InChI=1S/C7H16/c1-6(2)7(3,4)5/h6H,1-5H3 |
| InChIKey | ZISSAWUMDACLOM-UHFFFAOYSA-N |
| SMILES | CC(C)C(C)(C)C |