2.2/'-Dithiobis(pyridine-N-oxide) - CAS 3696-28-4
2,2′-Dithiobis(pyridine-N-oxide) (Cat.No:R070503) is a chemical compound used as a ligand in coordination chemistry. It possesses two pyridine-N-oxide functional groups connected by a sulfur atom. This versatile compound forms stable complexes with various metal ions, making it valuable in catalysis, coordination chemistry, and other research applications involving metal-ligand interactions.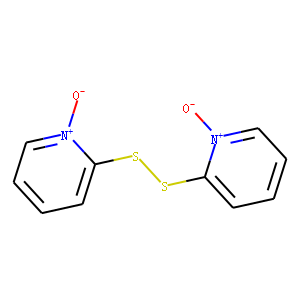 Molecular Formula: C10H8N2O2S2
Molecular Weight:252.31
* For research use only. Not for human or veterinary use.
Synonym
Property
| | |
| --- | --- |
| Molecular Formula: | C10H8N2O2S2 |
| Molecular Weight | 252.31 |
| Purity | ≥95% |
| Storage | Store at RT |
Computed Descriptor
| | |
| --- | --- |
| IUPAC Name | 1-oxido-2-[(1-oxidopyridin-1-ium-2-yl)disulfanyl]pyridin-1-ium |
| InChI | InChI=1S/C10H8N2O2S2/c13-11-7-3-1-5-9(11)15-16-10-6-2-4-8-12(10)14/h1-8H |
| InChIKey | ZHDBTKPXEJDTTQ-UHFFFAOYSA-N |
| SMILES | C1=CC=[N+](C(=C1)SSC2=CC=CC=[N+]2[O-])[O-] |