2-Oxopyrrolidine-1-carbaldehyde - CAS 40321-44-6
2-Oxopyrrolidine-1-carbaldehyde (Cat.No:L003406) is a crucial compound in organic synthesis. Its versatile reactivity and structural significance have led to its widespread application in the preparation of various functional materials and pharmaceutical intermediates. This compound plays a pivotal role in contemporary chemical research, exemplifying its importance in the advancement of diverse industries, from pharmaceuticals to materials science.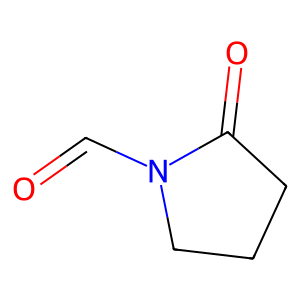 Molecular Formula: C5H7NO2
Molecular Weight:113.11
* For research use only. Not for human or veterinary use.
Property
| | |
| --- | --- |
| Molecular Formula: | C5H7NO2 |
| Molecular Weight | 113.11 |
| Purity | ≥95% |
Computed Descriptor
| | |
| --- | --- |
| IUPAC Name | 2-oxopyrrolidine-1-carbaldehyde |
| InChI | InChI=1S/C5H7NO2/c7-4-6-3-1-2-5(6)8/h4H,1-3H2 |
| InChIKey | XALHICXNSREUAV-UHFFFAOYSA-N |
| SMILES | C1CC(=O)N(C1)C=O |