2-aminoindan-2-phosphonic acid - CAS 141120-17-4
2-Aminoindan-2-phosphonic acid (CAT: M137061) is a significant compound in medicinal and pharmaceutical research, known for its potential pharmacological activity. It serves as a valuable tool in the study of neurotransmission and synaptic function due to its interactions with certain glutamate receptor subtypes. Understanding its behavior at these receptors contributes to the exploration of its therapeutic potential for neurological disorders and neurodegenerative diseases.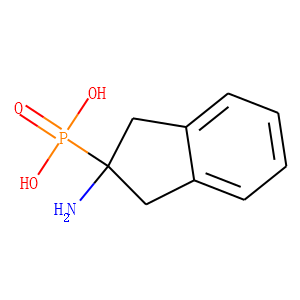 Molecular Formula: C9H12NO3P
Molecular Weight:213.173
* For research use only. Not for human or veterinary use.
Property
| | |
| --- | --- |
| Molecular Formula: | C9H12NO3P |
| Molecular Weight | 213.173 |
| Purity | ≥95% |
| Storage | -20°C |
Computed Descriptor
| | |
| --- | --- |
| IUPAC Name | (2-amino-1,3-dihydroinden-2-yl)phosphonic acid |
| InChI | InChI=1S/C9H12NO3P/c10-9(14(11,12)13)5-7-3-1-2-4-8(7)6-9/h1-4H,5-6,10H2,(H2,11,12,13) |
| InChIKey | YJFRDRWPYDVEIH-UHFFFAOYSA-N |
| SMILES | C1C2=CC=CC=C2CC1(N)P(=O)(O)O |