2-Aminoethanol hydrochloride - CAS 2002-24-6
2-Aminoethanol hydrochloride (CAT: I020803) is a bioactive chemical compound. It is the hydrochloride salt of 2-aminoethanol, also known as ethanolamine. 2-Aminoethanol is a versatile compound widely used in various applications, including pharmaceuticals, cosmetics, and industrial processes. It can serve as a building block in the synthesis of pharmaceutical drugs and as a precursor in the production of surfactants and detergents. Additionally, 2-aminoethanol has biological activities and is involved in various physiological processes in the human body.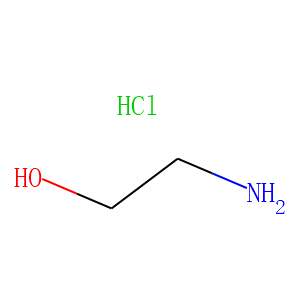 Molecular Formula: C2H8ClNO
Molecular Weight:97.542
* For research use only. Not for human or veterinary use.
Synonym
| | |
| --- | --- |
| Synonyms | 2-Aminoethanol hydrochloride |
Property
| | |
| --- | --- |
| Molecular Formula: | C2H8ClNO |
| Molecular Weight | 97.542 |
| Solubility | Soluble in DMSO |
| Purity | 98.0% |
| Storage | Dry, dark and at 0 - 4 C for short term (days to weeks) or -20 C for long term (months to years). |
Computed Descriptor
| | |
| --- | --- |
| IUPAC Name | 2-Aminoethanol hydrochloride |
| InChI | InChI=1S/C2H7NO.ClH/c3-1-2-4;/h4H,1-3H2;1H |
| InChIKey | PMUNIMVZCACZBB-UHFFFAOYSA-N |
| SMILES | NCCO.[H]Cl |