17-AAG- CAS 75747-14-7

17-AAG(cas# 75747-14-7), also known as Tanespimycin or KOS-953, is a potent HSP90 inhibitor with IC50 of 5 nM, having a 100-fold higher binding affinity for HSP90 derived from tumour cells than HSP90 from normal cells. 17-AAG causes the degradation of HER2, Akt, and both mutant and wild-type AR and the retinoblastoma-dependent G1 growth arrest of prostate cancer cells. 17-AAG inhibits prostate cancer cell lines with IC50s ranged from 25-45 nM (LNCaP, 25 nM; LAPC-4, 40 nM; DU-145, 45 nM; and PC-3, 25 nM). Development of 17-AAG has been discontinued.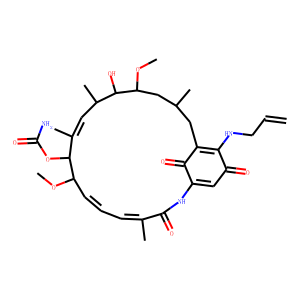 Catalog Number: I004806
CAS Number: 75747-14-7
PubChem Substance ID:355040753
Molecular Formula: C₃₁H₄₃N₃O₈
Molecular Weight:585.69
Purity: ≥95%
Inventory:In stock
* For research use only. Not for human or veterinary use.
Synonym
| | |
| --- | --- |
| Synonyms | Tanespimycin;17-AAG; KOS-953; [(3R,5S,6R,7S,8E,10S,11S,12Z,14E)-6-hydroxy-5,11-dimethoxy-3,7,9,15-tetramethyl-16,20,22-trioxo-21-(prop-2-enylamino)-17-azabicyclo[16.3.1]docosa-1(21),8,12,14,18-pentaen-10-yl] carbamate |
Property
| | |
| --- | --- |
| Molecular Formula: | C₃₁H₄₃N₃O₈ |
| Molecular Weight | 585.69 |
| Target: | HSP |
| Solubility | DMSO: ≥ 55 mg/mL |
| Purity | ≥95% |
| Storage | Store at 4°C |
| MDL | MFCD04973892 |
| Overview of Clinical Research | Originator: National Institutes of Health (USA)<br /> Developer: Kosan Biosciences<br /> Class: Antineoplastics; Benzoquinones; Cytostatic antibiotics; Macrocyclic lactams; Small molecules<br /> Mechanism of Action: HSP90 heat-shock protein inhibitors<br /> Orphan Drug Status: Yes – Multiple myeloma<br /> <p> New Molecular Entity: Yes</p> <p> Highest Development Phases: Discontinued Breast cancer;</p> |
| IC50 | 5 nM |
Computed Descriptor
| | |
| --- | --- |
| InChI | InChI=1S/C31H43N3O8/c1-8-12-33-26-21-13-17(2)14-25(41-7)27(36)19(4)15-20(5)29(42-31(32)39)24(40-6)11-9-10-18(3)30(38)34-22(28(21)37)16-23(26)35/h8-11,15-17,19,24-25,27,29,33,36H,1,12-14H2,2-7H3,(H2,32,39)(H,34,38)/b11-9-,18-10+,20-15+/t17-,19+,24+,25+,27- |
| InChIKey | AYUNIORJHRXIBJ-TXHRRWQRSA-N |
| SMILES | CC1CC(C(C(C=C(C(C(C=CC=C(C(=O)NC2=CC(=O)C(=C(C1)C2=O)NCC=C)C)OC)OC(=O)N)C)C)O)OC |