1,3,4,6,7,8-HEXAHYDRO-2H-PYRIMIDO[1,2-A]PYRIMIDINE - CAS 5807-14-7
1,5,7-Triazabicyclo[4.4.0]dec-5-ene is a bicyclic guanidine base that can be used as a catalyst for a variety of base-mediated organic transformations, including Michael additions, Wittig reactions, Henry reactions, and transesterification reactions.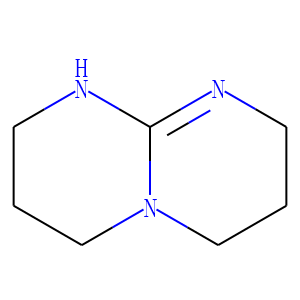 Molecular Formula: C7H13N3
Molecular Weight:139.202
* For research use only. Not for human or veterinary use.
Synonym
| | |
| --- | --- |
| Synonyms | LABOTEST-BB LT00847641;1,5,7-TRIAZABICYCLO[4.4.0]DEC-5-ENE;1,3,4,6,7,8-HEXAHYDRO-2H-PYRIMIDO[1,2-A]PYRIMIDINE;1,3,4,6,7,8-HEXAHYDRO-2H-PYRIMIDO[1,2-A]PYRIMIDINE, POLYMER-BOUND;TBD;2H-Pyrimido[1,2-a]pyrimidine, 1,3,4,6,7,8-hexahydro-;1,5,7-Triazabicyl |
Property
| | |
| --- | --- |
| Molecular Formula: | C7H13N3 |
| Molecular Weight | 139.202 |
| Purity | ≥95% |
| Storage | -20°C |
Computed Descriptor
| | |
| --- | --- |
| IUPAC Name | 3,4,6,7,8,9-hexahydro-2H-pyrimido[1,2-a]pyrimidine |
| InChI | InChI=1S/C7H13N3/c1-3-8-7-9-4-2-6-10(7)5-1/h1-6H2,(H,8,9) |
| InChIKey | FVKFHMNJTHKMRX-UHFFFAOYSA-N |
| SMILES | C1CNC2=NCCCN2C1 |