1-Octadecanol - CAS 112-92-5
1-Octadecanol (Cat.No:R023316) is a fatty alcohol commonly found in waxes, oils, and various natural sources. It is used in cosmetics, personal care products, and as a surfactant in emulsions. With its long hydrocarbon chain, 1-octadecanol contributes to the texture, stability, and moisture retention in various formulations.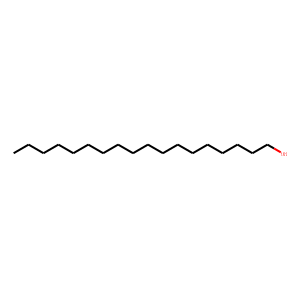 Molecular Formula: C18H38O
Molecular Weight:270.501
* For research use only. Not for human or veterinary use.
Synonym
| | |
| --- | --- |
| Synonyms | 1-Hydroxyoctadecane; 1-Stearyl Alcohol; Adol 62; Adol 64; Adol 68; Alfol 18; Alfol 18NF; Atalco S; CO 1895; CO 1895F; CO 1897; CO 1898; Cachalot S 43; Conol 1675; Conol 30F; Conol 30S; Conol 30SS; Crodacol S; Crodacol S 70; Crodacol S 95; Crodacol S |
Property
| | |
| --- | --- |
| Molecular Formula: | C18H38O |
| Molecular Weight | 270.501 |
| Purity | ≥95% |
| Storage | Store at -20°C |
Computed Descriptor
| | |
| --- | --- |
| IUPAC Name | octadecan-1-ol |
| InChI | InChI=1S/C18H38O/c1-2-3-4-5-6-7-8-9-10-11-12-13-14-15-16-17-18-19/h19H,2-18H2,1H3 |
| InChIKey | GLDOVTGHNKAZLK-UHFFFAOYSA-N |
| SMILES | CCCCCCCCCCCCCCCCCCO |