1-Nitropyrene-d9 - CAS 93487-20-8
1-Nitropyrene-d9(CAT: C000524) is a deuterated isotopologue of 1-Nitropyrene. 1-Nitropyrene is a notable nitropolycyclic aromatic hydrocarbon (NPAH) and is found in high concentrations in diesel engine exhaust. This compound possesses potent carcinogenic and mutagenic properties, making it a subject of concern in environmental and occupational health. It is commonly used as a reference material for studying the toxicity and health risks associated with NPAH exposure.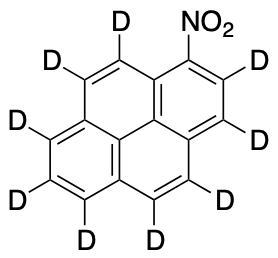 Molecular Formula: C₁₆D₉NO₂
Molecular Weight:256.3
Appearance:Light Yellow to Dark Yellow Solid
* For research use only. Not for human or veterinary use.
Synonym
| | |
| --- | --- |
| Synonyms | 8-Nitropyrene-1,2,3,4,5,6,7,9,10-d9; 8-Nitro-pyrene-1,2,3,4,5,6,7,9,10-d9; |
Property
| | |
| --- | --- |
| Molecular Formula: | C₁₆D₉NO₂ |
| Molecular Weight | 256.3 |
| Solubility | Chloroform (Slightly), Ethyl Acetate (Slightly, Sonicated) |
| Purity | ≥95% |
| Storage | -20°C, Inert atmosphere |