1-Bromo-2-methylpentane - CAS 25346-33-2
1-Bromo-2-methylpentane(CAT: 070182) is a common small halogenated hydrocarbon used as a basic fragment in organic synthesis. This product is used for organic synthesis, pharmaceutical research and development, and other scientific purposes.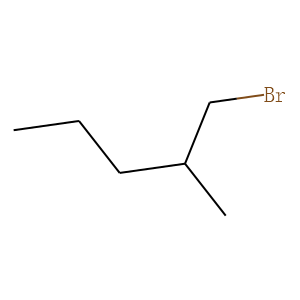 Molecular Formula: C6H13Br
Molecular Weight:165.074
* For research use only. Not for human or veterinary use.
Synonym
| | |
| --- | --- |
| Synonyms | 2-METHYLPENTYL BROMIDE |
Property
| | |
| --- | --- |
| Molecular Formula: | C6H13Br |
| Molecular Weight | 165.074 |
| Purity | ≥95% |
| Storage | RT |
Computed Descriptor
| | |
| --- | --- |
| IUPAC Name | 1-bromo-2-methylpentane |
| InChI | InChI=1S/C6H13Br/c1-3-4-6(2)5-7/h6H,3-5H2,1-2H3 |
| InChIKey | GSYMWZIKZUHBKV-UHFFFAOYSA-N |
| SMILES | CCCC(C)CBr |