γ-Lipoic Acid - CAS 462-20-4
Dihydrolipoic acid (DHLA; CAS 462-20-4) is a dithiol-containing carboxylic acid that is the reduced form of α-lipoic acid. It acts as a general antioxidant that is highly reactive against a variety of reactive oxygen species, including hydroxyl radicals, peroxynitirite, hydrogen peroxide, and hypochlorite, at concentrations ranging from 0.01-0.5 mM. At concentrations of 50-100 µM, DHLA triggers apoptosis of mouse embryonic stem cells and human cancer cells, suppressing proliferation.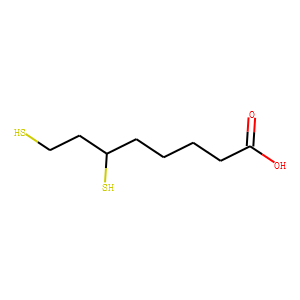 Molecular Formula: C8H16O2S2
Molecular Weight:208.334
* For research use only. Not for human or veterinary use.
Synonym
| | |
| --- | --- |
| Synonyms | 6,8-Dimercaptooctanoic Acid; (±)-Dihydro-α-lipoic Acid; (±)-Dihydrolipoic Acid; DL-Dihydro-α-lipoic Acid; Dihydrolipoic Acid; Dihydrothioctic Acid; Reduced Lipoic Acid; Reduced Thioctic Acid; Dihydrothioctic Acid; dl-Dihydrolipoic Acid; |
Property
| | |
| --- | --- |
| Molecular Formula: | C8H16O2S2 |
| Molecular Weight | 208.334 |
| Purity | ≥95% |
| Storage | -20°C |
Computed Descriptor
| | |
| --- | --- |
| IUPAC Name | 6,8-bis(sulfanyl)octanoic acid |
| InChI | InChI=1S/C8H16O2S2/c9-8(10)4-2-1-3-7(12)5-6-11/h7,11-12H,1-6H2,(H,9,10) |
| InChIKey | IZFHEQBZOYJLPK-UHFFFAOYSA-N |
| SMILES | C(CCC(=O)O)CC(CCS)S |