The Latest Drug Developments in the Treatment Of Alzheimer's Disease
The Latest Drug Developments in the Treatment Of Alzheimer's Disease
---
September 15, 2023Author:MuseChemTag:Inhibitors/Agonists
---
Alzheimer's disease, an irreversible and progressive neurological condition, initiates a gradual erosion of memory and cognitive abilities, culminating in an eventual incapacity to carry out even basic daily activities. This ailment not only inflicts profound distress and challenges upon the afflicted individuals, but it also greatly benefits their families and society. Hence, addressing and treating Alzheimer's disease is both pressing and essential.
---
As the saying goes, being sick is not terrible, but having no medicine is the most terrible. However, there is a disease whose drug development failure rate is as high as 99.6%, which has caused countless well-known pharmaceutical companies to die. Do you know what the disease is?
That's right, it's Alzheimer's disease (AD)!
Alzheimer's disease (AD) is a progressive, irreversible brain disease that affects memory, thinking and language skills. Over time, people with Alzheimer's disease may be unable to carry out daily activities. Alzheimer's disease is mainly manifested in symptoms such as cognitive function and behavioral impairment and mental abnormalities. It is the third leading disease that causes disability and death to the elderly after cardiovascular and cerebrovascular diseases and malignant tumors. There are currently at least 50 million Alzheimer's patients worldwide, and this number is expected to reach about 150 million by 2050.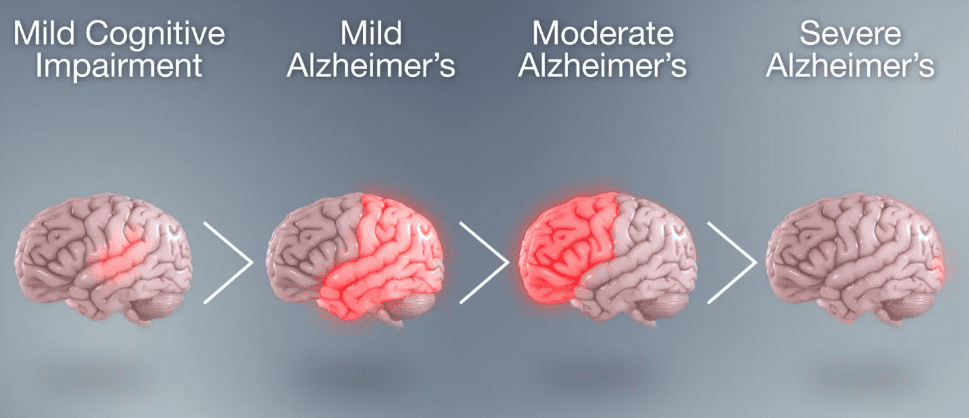 Fig. 1 The extent of damage in the brain in Alzheimer's disease. (Source Scientific Animations)
Alzheimer's disease signaling pathway
Alzheimer's disease stands as one of the most prevalent neurodegenerative conditions worldwide. Its clinical manifestations involve the emergence of extracellular amyloid plaques and intracellular neurofibrillary tangles, which in turn prompt dysfunction and demise of neurons. The core of this ailment lies in the distinct processing of the amyloid precursor protein (APP). Acting as an essential membrane protein, APP undergoes proteolytic breakdown. Initially, α-secretase cleaves APP, generating sAPPα and the C83 carboxy-terminal fragment. The presence of sAPPα corresponds with normal synaptic signaling, overseeing critical functions like neuronal survival and synaptic plasticity, pivotal for advanced brain operations encompassing learning, memory, and other behaviors.
Alternatively, β-secretase and γ-secretase sequentially cleave APP, releasing diverse extracellular monomers, with Aβ40/42 being of utmost significance. In instances of disease, an imbalance between APP processing routes leads to heightened aggregation of neurotoxic monomers, culminating in Aβ oligomerization and the creation of plaques. This pathogenic Aβ aggregation triggers ion channel blockage, disruption of calcium balance, oxidative stress within mitochondria, compromised energy metabolism, altered synaptic activity, and, ultimately, demise of neuronal cells. Certain types of glial cells, such as astrocytes and microglia, are considered both neuroprotective and pathogenic within the context of amyloid monomer, oligomer, and plaque accumulation.
Another distinctive hallmark of Alzheimer's disease involves the emergence of neurofibrillary tangles, composed of hyperphosphorylated versions of the microtubule-associated protein Tau. Predominantly, the kinases GSK-3α/β and CDK5 drive Tau phosphorylation, while other kinases like PKC, PKA, and Erk2 also partake in this process. The excessive phosphorylation of Tau leads to its detachment from microtubules, followed by destabilization of microtubules and eventual oligomerization of Tau, culminating in the formation of intracellular neurofibrillary tangles. Over time, the gradual buildup of these tangles precipitates neuronal apoptosis.
Fig. 2 Molecular and cellular biology of Alzheimer's disease
While Alzheimer's disease presents a significant menace to human neurological well-being, the existing arsenal of approved drugs for its treatment remains limited. Furthermore, these medications typically serve only to manage symptoms, often failing to alter the disease's trajectory. Drawing insights from an extensive array of cases and clinical outcomes, researchers have proposed several theories to elucidate the origins of Alzheimer's disease. Among these, the most extensively acknowledged and actively pursued avenues for drug development and investigation include the β-amyloid protein hypothesis (also known as the Amyloid cascade hypothesis), the Tau protein hypothesis (Tau hypothesis), and the cholinergic hypothesis (Cholinergic hypothesis), to name a few.
Research progress of donanemab
Donanemab is a monoclonal antibody that binds to the β-amyloid subtype N3pG that Eli Lilly is developing. The removal of protein-like plaques can improve the symptoms and signs of patients and delay the progression of the disease.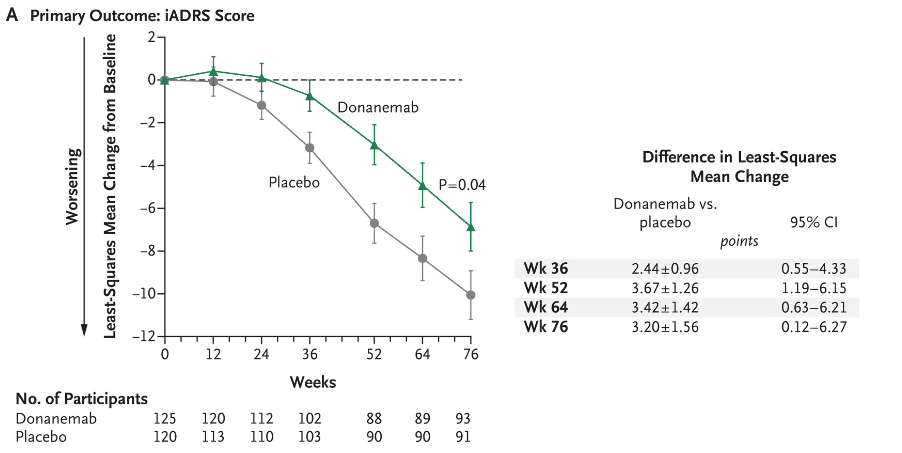 Fig. 3 iADRS score in AD patients treated with donanemab. (Image source: The New England Journal of Medicine)
Lilly announced the full results of the Phase 3 clinical study of TRAILBLAZER-ALZ 2 on July 17, 2023, showing:
Donanemab significantly slowed cognitive and functional decline and reduced the risk of disease progression in patients with amyloid-positive early symptomatic Alzheimer's disease;
Nearly half of the participants with early-stage disease who received donanemab had no clinical progression after 1 year of treatment. Those who received donanemab slowed the decline in cognitive function by 60% compared with placebo subjects.
In addition, the treatment effect of donanemab relative to placebo continued to increase throughout the trial, with many participants completing the course at 6 or 12 months, supporting the limited duration of treatment.
Lilly has completed the submission of the marketing application to the US FDA in the second quarter, and it is expected to receive feedback by the end of the year!
Lecanemab for the treatment of Alzheimer's disease
At the beginning of 2023, the FDA approved another new drug for Alzheimer's disease, Lecanemab, at a cost of US$26,500 per year, much lower than the US$56,000 per year price of Aducanumab. Lecanemab is a humanized monoclonal antibody that works by binding to β-amyloid (Aβ). Phase III clinical results show that the drug can slow down the rate of cognitive decline in AD patients by 27%, and delay the deterioration of the patient's condition by about 5 months.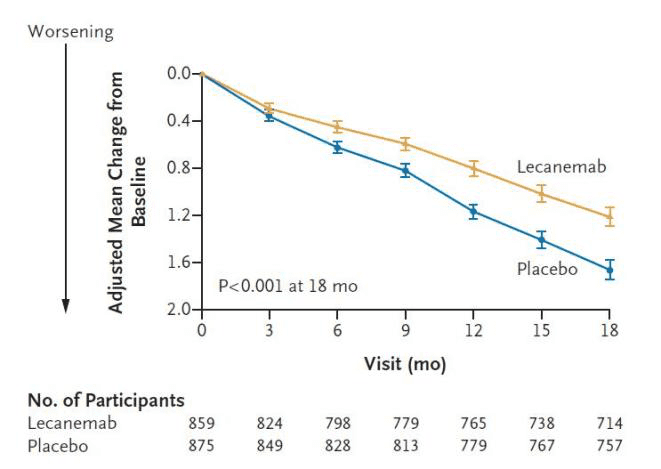 Fig. 4 Cognitive performance test in patients treated with lecanemab. (Image source: The New England Journal of Medicine)
---
Summarize
Alzheimer's disease exerts a profound impact on the well-being of individuals afflicted by it, while also imposing a substantial load on the families of patients. The endorsement of Lecanemab stands as a noteworthy achievement. This advancement transcends mere symptom relief, representing the cutting-edge in therapeutic approaches aimed at addressing the fundamental pathological processes and the onward march of Alzheimer's disease.
---
References