yttrium trihydroxide- CAS 16469-22-0
Inquire yttrium trihydroxide (cas: 16469-22-0 ) online by filling out the inquiry form, we will get back to you within 24 hours!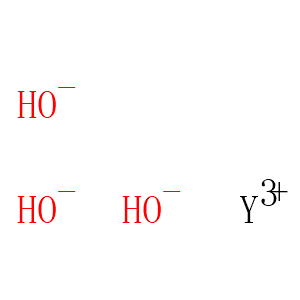 Catalog Number: M083093
CAS Number: 16469-22-0
PubChem Substance ID:355433906
Molecular Formula: H3O3Y
Molecular Weight:139.927
Purity: ≥95%
* For research use only. Not for human or veterinary use.
Property
| | |
| --- | --- |
| Molecular Formula: | H3O3Y |
| Molecular Weight | 139.927 |
| Purity | ≥95% |
| Storage | Store at -20°C |
Computed Descriptor
| | |
| --- | --- |
| IUPAC Name | yttrium(3+);trihydroxide |
| InChI | InChI=1S/3H2O.Y/h3*1H2;/q;;;+3/p-3 |
| InChIKey | DEXZEPDUSNRVTN-UHFFFAOYSA-K |
| SMILES | [OH-].[OH-].[OH-].[Y+3] |