TEMPOXIME - CAS 63467-53-8
a neuronal nicotinic AChR antagonist. Potent ganglioblocker. Hypotensive. Good penetration of biological membranes. Secondary analog of Pempoxime. Antioxidant, radical scavenger.
Piperidine derivative,<!–C
9
H
18
N
2
O. HCl–>, synthetic.
For comparative information see the attached 3 tables.

Cell permeant central nicotinic acetylcholine receptor blocker without action on skeleton muscle innervation.

Good to moderate penetration of biological membranes.
Antioxidant (precursor of stable TEMPO nitroxyl radical): together with PEMPOXIME can be used for testing the possibility of antioxydant contribution into any observed biological activity of TEMPOXIME.

Potential antimitotic (ask for the TEMPIDONE data).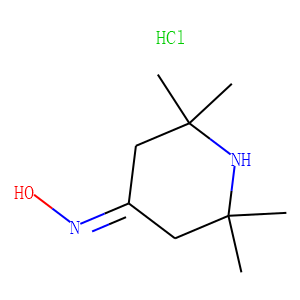 Molecular Formula: C9H19ClN2O
Molecular Weight:206.714
* For research use only. Not for human or veterinary use.
Synonym
| | |
| --- | --- |
| Synonyms | 2,2,6,6-tetramethylpiperidone-4 oxime hydrochloride. |
Property
| | |
| --- | --- |
| Molecular Formula: | C9H19ClN2O |
| Molecular Weight | 206.714 |
| Solubility | water, ethanol. |
| Purity | ≥95% |
| Storage | store at room temperature. Solution for use: dissolve in water: 10-3M (2 mg in 9.66 ml), stable for 1-2 days at 20C. |
Computed Descriptor
| | |
| --- | --- |
| IUPAC Name | N-(2,2,6,6-tetramethylpiperidin-4-ylidene)hydroxylamine;hydrochloride |
| InChI | InChI=1S/C9H18N2O.ClH/c1-8(2)5-7(10-12)6-9(3,4)11-8;/h11-12H,5-6H2,1-4H3;1H |
| InChIKey | PMDFGKBTEGXYED-UHFFFAOYSA-N |
| SMILES | CC1(CC(=NO)CC(N1)(C)C)C.Cl |