Palbociclib free base- CAS 571190-30-2 (free base)
Palbociclib, also known as PD-0332991, is an orally available cyclin-dependent kinase (CDK) inhibitor with potential antineoplastic activity. Palbociclib selectively inhibits cyclin-dependent kinase 4 (CDK4) and 6 (CDK6), thereby inhibiting retinoblastoma (Rb) protein phosphorylation early in the G1 phase leading to cell cycle arrest. This suppresses DNA replication and decreases tumor cell proliferation. CDK4 and 6 are serine/threonine kinases that are upregulated in many tumor cell types and play a key role in the regulation of cell cycle progression. Palbociclib, was approved on February 3, 2015 as a treatment (in combination with letrozole) for patients with estrogen receptor-positive advanced breast cancer.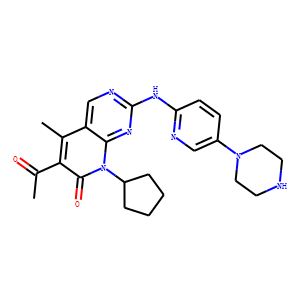 CAS Number: 571190-30-2 (free base)
Molecular Formula: C24H29N7O2
Molecular Weight:447.543
* For research use only. Not for human or veterinary use.
Synonym
| | |
| --- | --- |
| Synonyms | PD-0332991; PD 0332991; PD0332991; Palbociclib free base, brand name: Ibrance.;6-acetyl-8-cyclopentyl-5-methyl-2-((5-(piperazin-1-yl)pyridin-2-yl)amino)pyrido[2,3-d]pyrimidin-7(8H)-one |
Property
| | |
| --- | --- |
| Molecular Formula: | C24H29N7O2 |
| Molecular Weight | 447.543 |
| Target: | CDK inhibitor |
| Solubility | Soluble in DMSO, not in water |
| Purity | ≥95% |
| Storage | 0 - 4 °C for short term, or -20 °C for long term |
| MDL | MFCD11840850 |
Computed Descriptor
| | |
| --- | --- |
| IUPAC Name | 6-acetyl-8-cyclopentyl-5-methyl-2-[(5-piperazin-1-ylpyridin-2-yl)amino]pyrido[2,3-d]pyrimidin-7-one |
| InChI | InChI=1S/C24H29N7O2/c1-15-19-14-27-24(28-20-8-7-18(13-26-20)30-11-9-25-10-12-30)29-22(19)31(17-5-3-4-6-17)23(33)21(15)16(2)32/h7-8,13-14,17,25H,3-6,9-12H2,1-2H3,(H,26,27,28,29) |
| InChIKey | AHJRHEGDXFFMBM-UHFFFAOYSA-N |
| SMILES | CC1=C(C(=O)N(C2=NC(=NC=C12)NC3=NC=C(C=C3)N4CCNCC4)C5CCCC5)C(=O)C |