MRIA9
MRIA9 is a Selective Salt-Inducible Kinase Inhibitor. MRIA9 showed dual SIK/PAK activity and excellent selectivity over other kinases. MRIA9 sensitizes ovarian cancer cells to treatment with the mitotic agent paclitaxel, confirming earlier data from genetic knockdown studies and suggesting a combination therapy with SIK inhibitors and paclitaxel for the treatment of paclitaxel-resistant ovarian cancer.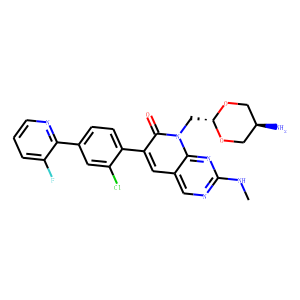 Molecular Formula: C24H22ClFN6O3
Molecular Weight:496.9274
* For research use only. Not for human or veterinary use.
Synonym
| | |
| --- | --- |
| Synonyms | MRIA9; MRIA 9; MRIA-9; |
Property
| | |
| --- | --- |
| Molecular Formula: | C24H22ClFN6O3 |
| Molecular Weight | 496.9274 |
| Solubility | To be determined |
| Purity | 98.0% |
| Storage | Dry, dark and at 0 - 4 C for short term (days to weeks) or -20 C for long term (months to years). |
Computed Descriptor
| | |
| --- | --- |
| IUPAC Name | 8-(((2r,5r)-5-amino-1,3-dioxan-2-yl)methyl)-6-(2-chloro-4-(3-fluoropyridin-2-yl)phenyl)-2-(methylamino)pyrido[2,3-d]pyrimidin-7(8H)-one |
| InChI | InChI=1S/C24H22ClFN6O3/c1-28-24-30-9-14-7-17(16-5-4-13(8-18(16)25)21-19(26)3-2-6-29-21)23(33)32(22(14)31-24)10-20-34-11-15(27)12-35-20/h2-9,15,20H,10-12,27H2,1H3,(H,28,30,31)/t15-,20- |
| InChIKey | QKNBRNSGPNCARD-SGNKCFNYSA-N |
| SMILES | O=C1C(C2=CC=C(C3=NC=CC=C3F)C=C2Cl)=CC4=CN=C(NC)N=C4N1C[C@H]5OC[C@H](N)CO5 |