Mefloquine Hydrochloride - CAS 51773-92-3 (HCl)
Mefloquine hydrochloride is a phospholipid-interacting antimalarial drug. It is very effective against plasmodium falciparum with very few side effects. When used for prevention it is taken once a week and should be begun one or two weeks before potential exposure and continued for four weeks after potential exposure. It can be used to treat mild or moderate malaria but should not be used to treat severe malaria.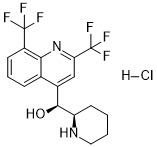 CAS Number: 51773-92-3 (HCl)
Molecular Formula: C17H17ClF6N2O
Molecular Weight:414.77
* For research use only. Not for human or veterinary use.
Synonym
| | |
| --- | --- |
| Synonyms | Mefloquine Hydrochloride; Mephaquin; Mefloquine HCL; Loriam; Mefloquine (hydrochloride); WR-177,602; WR142,490; WR177,602; Ro215998001; Roche; Brand of Mefloquine Hydrochloride;;(S)-[2,8-bis(trifluoromethyl)quinolin-4-yl]-[(2R)-piperidin-2-yl]methan |
Property
| | |
| --- | --- |
| Molecular Formula: | C17H17ClF6N2O |
| Molecular Weight | 414.77 |
| Solubility | Soluble in DMSO, not in water |
| Purity | ≥95% |
| Storage | 0 - 4 °C for short term, or -20 °C for long term |