Chlorpromazine Hydrochloride - CAS 69-09-0
Chlorpromazine Hydrochloride is the salt form of chlorpromazine, a phenothiazine and traditional antipsychotic agent with anti-emetic activity. Chlorpromazine hydrochloride exerts its antipsychotic effect by blocking postsynaptic dopamine receptors in cortical and limbic areas of the brain, thereby preventing the excess of dopamine in the brain. This leads to a reduction in psychotic symptoms, such as hallucinations and delusions. Other uses include the treatment of bipolar disorder, attention deficit hyperactivity disorder, nausea and vomiting, anxiety before surgery.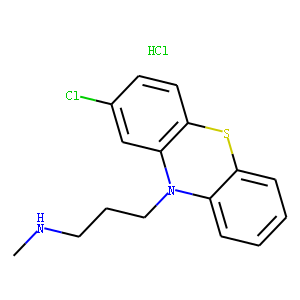 Molecular Formula: C₁₇H₁₉ClN₂S • HCl
Molecular Weight:355.32
* For research use only. Not for human or veterinary use.
Synonym
Property
| | |
| --- | --- |
| Molecular Formula: | C₁₇H₁₉ClN₂S • HCl |
| Molecular Weight | 355.32 |
| Target: | Dopamine Receptor |
| Solubility | Soluble in DMSO > 10 mM |
| Purity | ≥95% |
| Storage | 3 years -20C powder |
| MDL | MFCD00012654 |
Computed Descriptor
| | |
| --- | --- |
| InChI | InChI=1S/C17H19ClN2S.ClH/c1-19(2)10-5-11-20-14-6-3-4-7-16(14)21-17-9-8-13(18)12-15(17)20;/h3-4,6-9,12H,5,10-11H2,1-2H3;1H |
| InChIKey | FBSMERQALIEGJT-UHFFFAOYSA-N |
| SMILES | N(C)CCCN1C2=CC=CC=C2SC3=C1C=C(C=C3)Cl.Cl |