Avibactam sodium - CAS 1192491-61-4
Avibactam (CAS 1192491-61-4), which is the first non-β-lactam β-lactamase inhibitor to be introduced for clinical use, is a broad-spectrum serine β-lactamase inhibitor with activity against class A, class C, and, some, class D β-lactamases. In combination with ceftazidime, Avibactam is a new drug application for avibactam , and was approved by the FDA on February 25, 2015, to treat complicated urinary tract and complicated intra-abdominal Infections caused by antibiotic resistant-pathogens.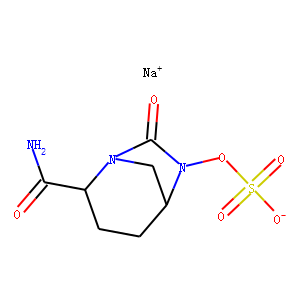 Molecular Formula: C7H10N3NaO6S
Molecular Weight:287.23
* For research use only. Not for human or veterinary use.
Synonym
| | |
| --- | --- |
| Synonyms | NXL104; NXL-104; NXL 104; Avibactam; Avibactam sodium.;sodium (2S,5R)-2-carbamoyl-7-oxo-1,6-diazabicyclo[3.2.1]octan-6-yl sulfate |
Property
| | |
| --- | --- |
| Molecular Formula: | C7H10N3NaO6S |
| Molecular Weight | 287.23 |
| Target: | non-β-lactam β-lactamase inhibitor |
| Solubility | Soluble in DMSO, not in water |
| Purity | ≥95% |
| Storage | 0 - 4 °C for short term or -20 °C for long term |
| Related CAS. | 1192500-31-4 ( Avibactam free acid) |
| Overview of Clinical Research | <span style="color:#000000;"><span style="font-size:12px;"><span style="font-family:arial,helvetica,sans-serif;">Avibactam is a b<span style="font-variant-ligatures: normal; orphans: 2; widows: 2;">eta lactamase inhibitor and a cell wall inhibitor.&nbsp;</span></span></span><span style="font-family:arial,helvetica,sans-serif;"><span style="font-size:12px;"><span style="font-variant-ligatures: normal; orphans: 2; widows: 2;">Antimicrobial data from in vitro studies in Enterobacteriaceae and P. aeruginosa isolates presented at the IDWeek 2020 (IDW-2020)</span></span></span></span> |
Computed Descriptor
| | |
| --- | --- |
| IUPAC Name | sodium;[(2S,5R)-2-carbamoyl-7-oxo-1,6-diazabicyclo[3.2.1]octan-6-yl] sulfate |
| InChI | InChI=1S/C7H11N3O6S.Na/c8-6(11)5-2-1-4-3-9(5)7(12)10(4)16-17(13,14)15;/h4-5H,1-3H2,(H2,8,11)(H,13,14,15);/q;+1/p-1/t4-,5+;/m1./s1 |
| InChIKey | RTCIKUMODPANKX-JBUOLDKXSA-M |
| SMILES | C1CC(N2CC1N(C2=O)OS(=O)(=O)[O-])C(=O)N.[Na+] |