Acetyl Coenzyme A Lithium Salt - CAS 32140-51-5
Acetyl Coenzyme A Lithium Salt (Cat.No:R036018) is a biochemical compound used in various cellular metabolic processes. It plays a crucial role in energy production and the synthesis of fatty acids and cholesterol. Acetyl Coenzyme A is an essential coenzyme involved in numerous biochemical reactions and is a key component in the citric acid cycle and fatty acid metabolism.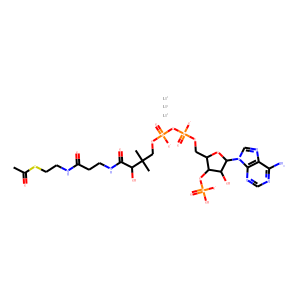 Molecular Formula: C23H35Li3N7O17P3S
Molecular Weight:827.366
* For research use only. Not for human or veterinary use.
Synonym
| | |
| --- | --- |
| Synonyms | Lithium acetyl-CoA; Coenzyme A, S-acetate, lithium salt; |
Property
| | |
| --- | --- |
| Molecular Formula: | C23H35Li3N7O17P3S |
| Molecular Weight | 827.366 |
| Purity | ≥95% |
| Storage | -20°C |
Computed Descriptor
| | |
| --- | --- |
| IUPAC Name | trilithium;[(2R,3S,4R,5R)-2-[[[[(3R)-4-[[3-(2-acetylsulfanylethylamino)-3-oxopropyl]amino]-3-hydroxy-2,2-dimethyl-4-oxobutoxy]-oxidophosphoryl]oxy-oxidophosphoryl]oxymethyl]-5-(6-aminopurin-9-yl)-4-hydroxyoxolan-3-yl] hydrogen phosphate |
| InChI | InChI=1S/C23H38N7O17P3S.3Li/c1-12(31)51-7-6-25-14(32)4-5-26-21(35)18(34)23(2,3)9-44-50(41,42)47-49(39,40)43-8-13-17(46-48(36,37)38)16(33)22(45-13)30-11-29-15-19(24)27-10-28-20(15)30;;;/h10-11,13,16-18,22,33-34H,4-9H2,1-3H3,(H,25,32)(H,26,35)(H,39,40)(H,41,42)(H2,24,27,28)(H2,36,37,38);;;/q;3*+1/p-3/t13-,16-,17-,18+,22-;;;/m1.../s1 |
| InChIKey | FTRFBNATWBKIQU-JHJDYNLLSA-K |
| SMILES | [Li+].[Li+].[Li+].CC(=O)SCCNC(=O)CCNC(=O)C(C(C)(C)COP(=O)([O-])OP(=O)([O-])OCC1C(C(C(O1)N2C=NC3=C2N=CN=C3N)O)OP(=O)(O)[O-])O |