2,6-Diisopropylaniline - CAS 24544-04-5
2,6-diisopropylaniline (Cat No.:R025252) is used in the synthesis of herbicides, acaricides and fungicides in pesticides. In medicine, it is used to synthesize anti-hypertensive drugs. In plastics, it is used as a foam-forming agent and also as a dye food additive, an intermediate in sweeteners. It is also used in other organic synthesis.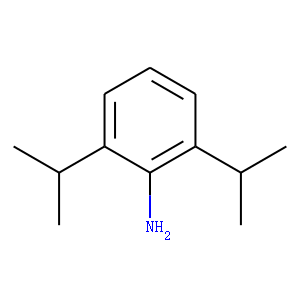 Molecular Formula: C12H19N
Molecular Weight:177.291
* For research use only. Not for human or veterinary use.
Synonym
| | |
| --- | --- |
| Synonyms | 2,6-Diisopropyl- aniline; 2,6-Bis(1-methylethyl)aniline; 2,6-Bis(1-methylethyl)benzenamine; 2,6-Diisopropylphenylamine; N-(2,6-Diisopropylphenyl)amine |
Property
| | |
| --- | --- |
| Molecular Formula: | C12H19N |
| Molecular Weight | 177.291 |
| Purity | ≥95% |
| Storage | -20°C |
Computed Descriptor
| | |
| --- | --- |
| IUPAC Name | 2,6-di(propan-2-yl)aniline |
| InChI | InChI=1S/C12H19N/c1-8(2)10-6-5-7-11(9(3)4)12(10)13/h5-9H,13H2,1-4H3 |
| InChIKey | WKBALTUBRZPIPZ-UHFFFAOYSA-N |
| SMILES | CC(C)C1=C(C(=CC=C1)C(C)C)N |