2-(Methylamino)ethanol- CAS 109-83-1
N-Methylmonoethanolamine (Cat No.: R020903), commonly known as MMEA, is a colorless or yellowish liquid with an ammonia odor and is a combustible substance. It is mainly used as a medicine and organic synthesis intermediate, and also an inhibitor of ethanolamine phosphate kinase.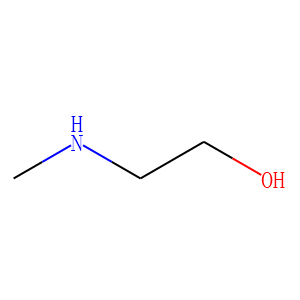 Molecular Formula: C3H9NO
Molecular Weight:75.111
* For research use only. Not for human or veterinary use.
Synonym
| | |
| --- | --- |
| Synonyms | (2-Hydroxyethyl)methylamine; (Hydroxyethyl)methylamine; 2-(N-Methylamino)ethanol; 2-Hydroxy-N-methylethylamine; 2-Hydroxyethyl-N-methylamine; 2-Methylamino-1-ethanol; 2-N-Monomethylaminoethanol; Amietol M 11; Amino Alcohol MMA; Methyl(2-hydroxyethyl) |
Property
| | |
| --- | --- |
| Molecular Formula: | C3H9NO |
| Molecular Weight | 75.111 |
| Purity | ≥95% |
| Storage | -20°C |
Computed Descriptor
| | |
| --- | --- |
| IUPAC Name | 2-(methylamino)ethanol |
| InChI | InChI=1S/C3H9NO/c1-4-2-3-5/h4-5H,2-3H2,1H3 |
| InChIKey | OPKOKAMJFNKNAS-UHFFFAOYSA-N |
| SMILES | CNCCO |